Sarah arrives home from work. She heads to the bedroom, and kicks off her heels as she flops on the bed after a long day at work. William is in the shower himself, and does not notice Sarah arrive home. He turns off the shower, and as he opens the door, Sarah is standing in the doorway, naked.
Seeing Sarah standing there, William turns on the shower, and motions for Sarah to join him. She slowly moves towards the shower, swaying her body teasingly.
Sarah and William shower together. William takes his time, soaping up Sarah's body, washing every curve and crevice of her body. He pays special attention to Sarah's nipples, and her clit. She moans with each touch and tease from William.
Soon the teasing finishes, and they both get out of the shower and dry off.
As they enter the bedroom, William grabs Sarah's ass, kisses her neck. He whispers into her ear, "pick a pair of sexy heels, I want to show you who your daddy is."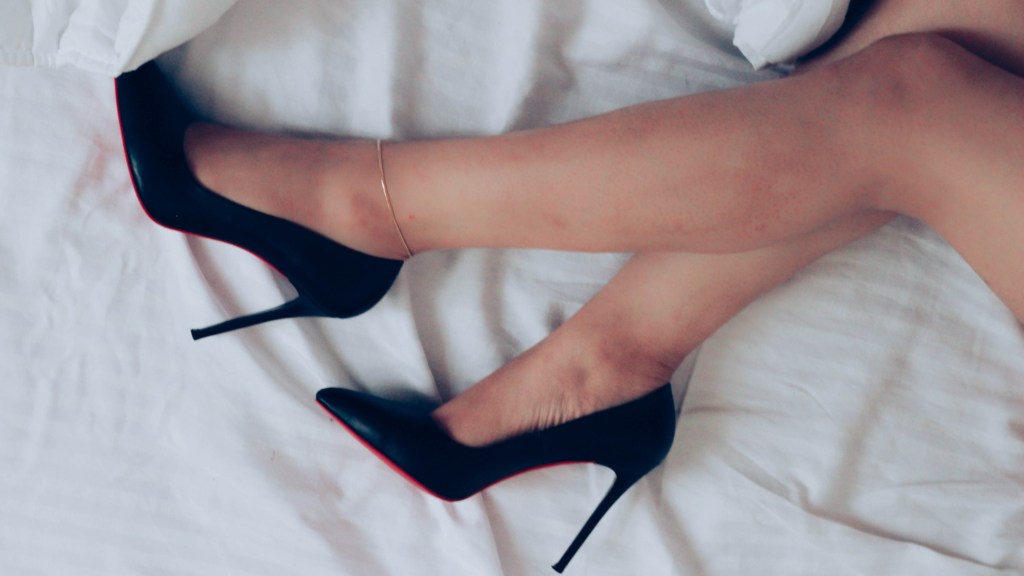 Sarah grabs her favourite pair of playtime heels. She sits on the bed, then slowly pulls them on seductively in front of William. He watches on, his cock getting hard. He wants to ravish Sarah, he knows the time will arrive, but he continues to enjoy the show from Sarah.
Sarah spreads her legs, her hands covering her pussy. She flashes William before hiding her pussy again. Williams eyes grow, and he watches Sarah intently.
The sexual tension builds in the room, William takes control of the bedroom. He orders Sarah to kneel on the bed, her arse high in the air. William drags his fingers all over Sarah's back. From her shoulders, over her arse, and down the back of her thighs. She wiggles and jiggles her arse.
William continues, leaning forward, kissing along her spine. He kisses all around Sarah's arse, making sure to occasionally leave a little bite mark on her meaty areas. He kneels behind Sarah, spreads her arse cheeks exposing her pussy lips. He leans forward, taking a deep breath before leaning in and kissing Sarah's pussy lips.
His tongue slips through his lips, and licks along Sarah's moist pussy lips. A moan escapes from Sarah's lips. William takes his time, licking and kissing, His fingers dragging along Sarah's legs from her heels to her arse. Sarah continues to moan and groan.
William stands and goes to the bedside table. He pulls out a butt plug and lube. He kneels behind Sarah again, he rubs some lube over Sarah's anus and the plug. He places the plug against her anus, and slowly pushes on the plug. He takes his time working the plug inside Sarah. She groans as she is slowly stretched open. Sarah squeezes against the plug, and they push against each other until it finally pops inside Sarah's anus.
William admires the crystal plug glistening in the afternoon light. He slaps Sarah's ass. She squeals in delight at the playful nature of William.
William tells Sarah to lay on her back and spread her legs. William positions himself between Sarah's legs. He leans forward again and kisses Sarah's pussy lips. He takes his time licking along her lips from back to front. Then focuses on her clit. His hands press the plug as he feasts on her pussy. Sarah's moans get louder and louder.
She rests her heels on Williams back. The pressure from the heels triggers William to work his tongue and fingers harder and faster on her pussy. William continues licking, and sucking on her pussy. When William hits one of Sarah's sensitive areas, she groans and presses her heels deeper into William's back. This goes on for quite some time. The masochist in William desires to feel the pain, which drives him to eat Sarah's pussy harder and faster.
William stops feasting, he looks up at Sarah. Sarah looks down at William with a look on her face that says, "why did you stop?" They look at each other in silence.
William rises to his knees. He grabs his hard, pierced cock, and starts stroking himself. Slowly at first, slowly exposing and hiding his piercing from Sarah's eyes. Sarah's eyes widen. She loves playing with William's piercing. She sits up and reaches out to grab his cock, but he brushes her hand away.
Sarah pouts, she wants to hold William's hard cock & piercing. She loves to lick along his shaft, teasing the pierced head with her tongue, but William stops her. He continues stroking his hard cock. The head glistens with precum.
As William continues stroking himself, Sarah feels the need to touch herself, but as her fingers get close to touching herself, William swats them away. William does not want Sarah to orgasm now.
Sarah continues trying to touch herself, but William always swats her hand away just as she gets close. Sarah looks at William with a look of disapproval. William just looks back with a wry smile on his face.
William stands & grabs Sarah's wand from the dresser. He joins her on the bed again, but kneels near her head. Sarah tries to lick his cock but it is just out of reach.
William drags the wand from Sarah's breasts down to her thighs and over her body, skipping her vulva. He continues all over her belly & thighs.
William spreads Sarah's legs wide open. Her vulva glistening with his saliva and her juices mixed together. He places the wand on her labia & Sarah groans ecstatically. After William licked her close to many orgasms, she needs to cum. The wand would send her over the edge, but William wants her whimpering, wants to hear her beg to orgasm.
William lowers the intensity of the wand. He knows Sarah is close to cumming, but he wants to tease our a long orgasm from her. However William knows how to draw an orgasm from deep within Sarah.