We meet up for a late afternoon drink, the sun is not far above the horizon, but still an hour away from sunset.
I buy the first round of drinks, you are drinking a margarita and I have a beer. We sit and casually chat as the sun slowly descends, the talk soon turns to flirting and some footsies under the table.
I suggest we go for a walk along the beach as the sun sets over the ocean.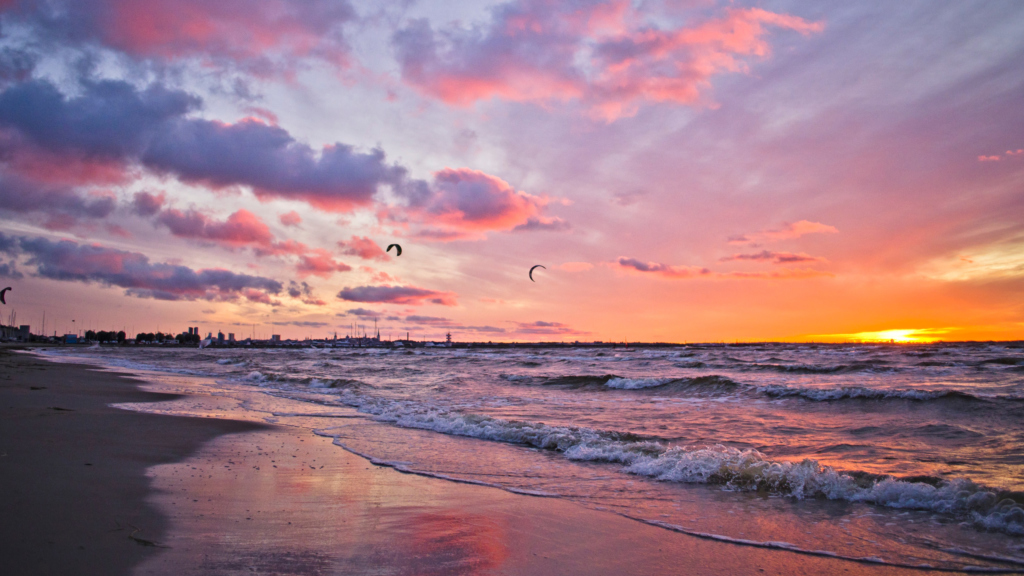 We walk along, the flirting continues until we are both hot and horny, struggling to keep our hands off each other. We fall to the sand, I climb on top, kissing you deeply as my hands start to explore your body.
My hand wanders under your shirt, lifting it to expose your round breasts. I gently nibble at them as the sun continues to set beyond the horizon. I take them into my mouth, suckling at them as if I am feeding of your milk.
I roll over and lay next to you, my hand wanders down inside your jeans. My fingers slip inside your warm, moist cunt. I watch your eyes as my fingers slide inside you, and your eyes roll into the back of your head telling me you are hot and horny for me.
I help as your wriggle your jeans down, I kneel between your legs and lean forward to smell the scent emanating from your cunt. I breathe deeply to take in the full scent profile.
My tongue slips along your cunt lips. I gently spread your lips with my fingers and work my tongue deeper into your folds as I work back and forth along your slit. You rest your hands on the back of my head as I continue working your cunt with my tongue.
I focus my tongue on your clit. I lift the hood with my tongue and reveal the clit for my tongue. I gently nibble, a moan escapes your lips. You push my face hard against your cunt as I work your clit.
I slip a finger inside your warmth, reaching for your G-spot as my tongue continues to work your clit.
The last of the sun dips below the horizon and a gentle breeze blows over us. The light slowly fades as my fingers rub your G-spot, edging you closer to a deep orgasm with each stroke.
You push my face deep into your cunt as your moans get louder. I earnestly continue licking and sucking on your cunt lips, occasionally nibbling on them listening to your groans get louder.
The louder your moans and groans get, the closer I can sense you are on the verge of an orgasm.
My tongue vigorously works your clit and pussy lips as my fingers rub your G-spot. I keep my face against you as best I can as you start squirming, your moans and groans building until I nibble your clit in just the right way, your body writhing as an orgasm rolls over you. I continue rubbing your G-spot as best I can as orgasm after orgasm rolls through your body.
I pull back and let the last of the orgasm subside. I lay down beside you, wrap my arms around you and we lay there watching the stars appear one by one as the last of the sunlight fades.