Neither of Missus Sub nor I have had the opportunity to purchase a new sex toy for a number of years. We were recently given the opportunity to review a product from the Laphwing catalogue of toys, so we were greatly honoured to try something new.
The catalogue of Laphwing is broad and varied, from traditional penile shaped dildos and vibrators, to fantasy and animal dildos. Our collection to date has generally been the traditional shaped toys, so we took the opportunity to try out a fantasy shaped dildo.
Our toy of choice for this review is the Basilisk Volcanic Rock 8.1″ Fantasy Dildo.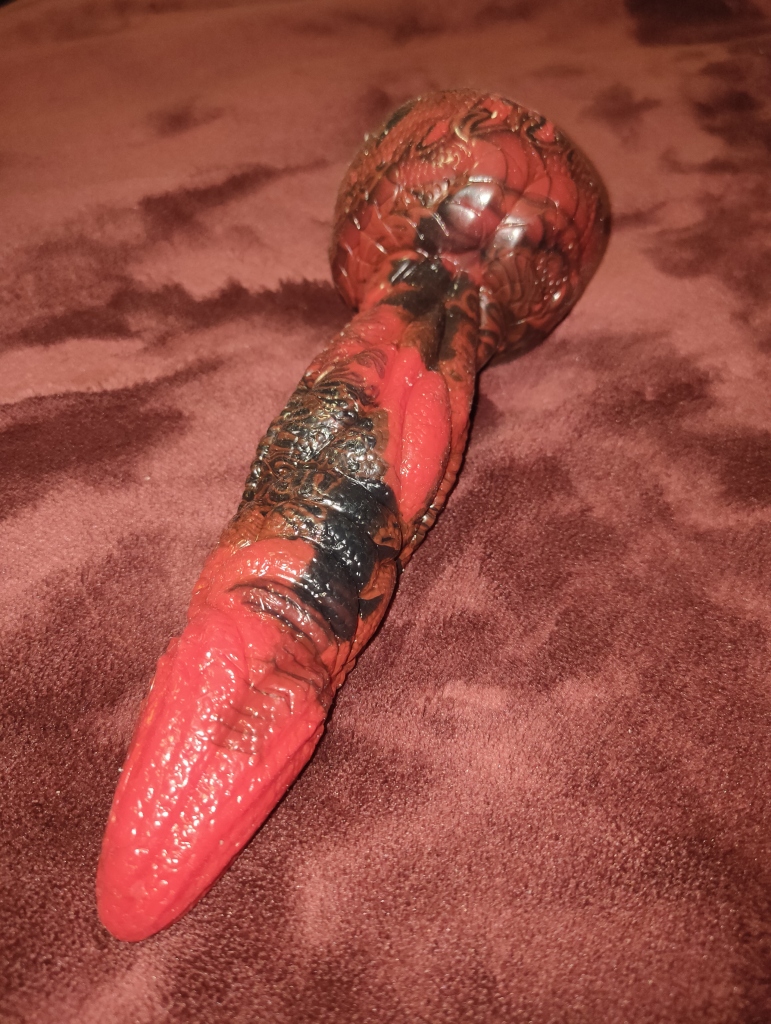 Material & Texture
The Laphwing website states that the Basilisk is made from premium silicone. It is firm when compressed in my hand, yet flexible when twisted and bent.
This feeling makes for what we believe is a well performing dildo. It stretches our vagina and arse, while still conforming to our insides without putting undue pressure in the wrong places.
The surface texture of the Basilisk allows for easy insertion through the gradual changes in overall size, but has enough texture to feel the smaller lumps when inserted.
Mounting
How does one use a dildo? There are a couple of ways: 1) held in your hand, thrusting yourself, 2) a partner holds it, and thrusts it for you, 3) a partner uses it with a harness, or 4) mounted to a flat surface, wall, mirror or floor using a suction cup.
The suction cup on the Basilisk is strong, and holds the dildos weight comfortably in any position we have tried it. Definitely love a dildo with a suction cup for some solo play in the shower.
Lube compatibility
Our preferred lubricant of choice are natural juices, Missus Sub is quite the juice maker.
However in the event that natural juices are not enough, we always go for a premium water based lubricant. Not only does it work well for us, but it also makes cleaning up at the end of a fun session that much easier.
We don't dare use silicone based lubricants. We have had bad experiences in the past, and while we can test on a small area, we generally don't run that risk with our toys.
Use water based lubricants only.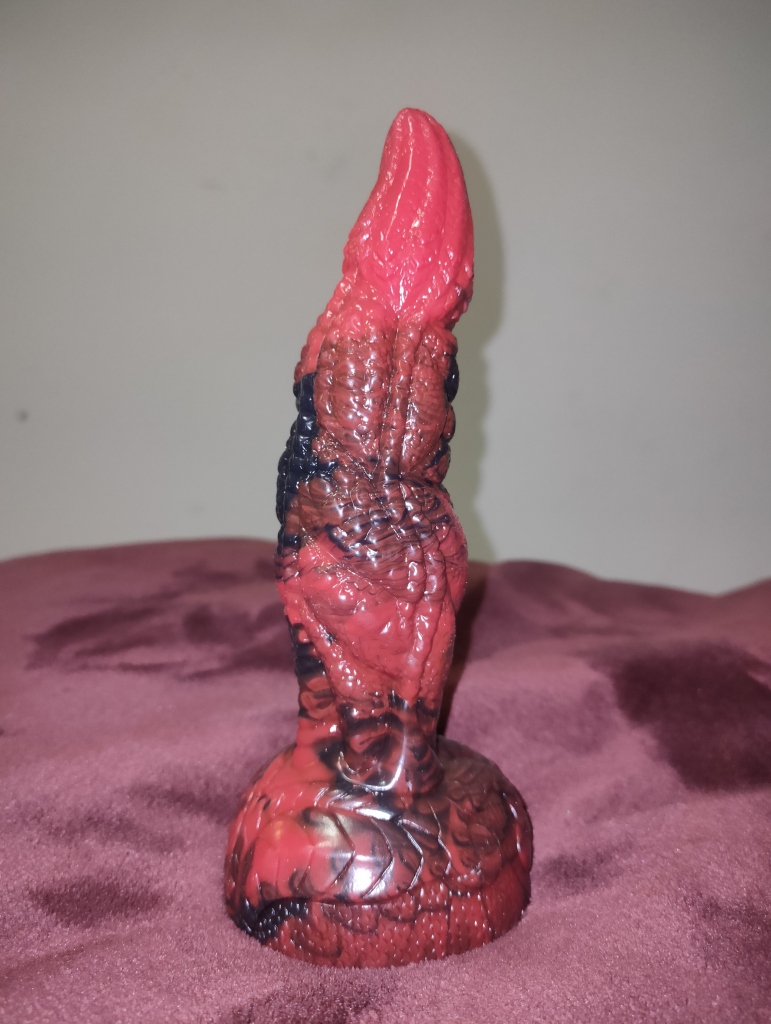 Cleaning
Because of the heavy texturing, as well as nooks and crannies, cleaning the Basilisk can be challenging, however a soft brush can help, but we haven't had any problems with cleaning. A good toy cleaner, or simply soap and water and left to dry before putting away should result in a long lasting toy.
Overall thoughts
If you are looking for your first fantasy or animal dildo, the Basilisk Volcanic Rock is a great option. It is small enough and can start your journey, but also is varied enough for a variety of play, oral, vaginal and anal. The texture is suitable for a variety of sensations.
Would I purchase another, I sure would, and definitely open to trying other animal dildos from the Laphwing Sex Toys store.