TW: The following story may contain topics that some readers find sensitive. All persons mentioned are of legal age and are able to give informed consent.
Sometimes the best stories come from real life scenarios and the possibilities that may develop from the situation. This is one of those events.
I am a prolific poster on Reddit & some of the more NSFW Subreddits where people, mostly women share their bodies with many subscribers from around the world. I am using Reddit at the moment to look for a little girl as part of a Daddy Dom Little girl (DDlg) dynamic, online or in real life.
At least once per week, I post up a personals ad offering to be a Daddy for Littles online or IRL. Most people who reply are from overseas. Now and then I come across someone from the land of Australia, mostly from states other than my home state.
Today, a lovely lady who goes by the name Olivia, asked if I could answer a few questions for her about DDlg. We had a good conversation via Reddit chat, and I cleared up some of her confusions and I answered questions to the best of my continually learning knowledge-bank.
After a few more days of chatting, we agreed to meet in person. This first meeting would involve a picnic and to eliminate any expectations of how the date would end, we agreed to partake in a 'kissing date'.
We organised to meet at the botanic gardens for a lovely picnic of sandwiches and champagne. I made some sandwiches that morning to bring with me. I packed a picnic blanket ready for our date, as well as champagne flutes. Olivia agreed to bring her favourite champagne for us to drink.
We travelled separately to our date. I arrived first and setup the blanket for us under the shade of a large tree. I pulled out the plates, sandwiches and champagne flutes ready for the date. Olivia arrived a few minutes later and brought over the champagne for us.
We did the polite thing with a cheek kiss and sat down on the blanket. We chatted for a few minutes, we were already comfortable chatting, but being in person made things a little awkward at first, but we soon found our chatting rhythm.
I offered to open the champagne. I took the bottle, and slowly worked out the cork with the familiar pop. I poured out two glasses of champagne for us. I set the bottle down, and we celebrated our first meeting.
It was time for some food, I offered Olivia the sandwiches, and she took a few to nibble on, but I sensed the food would only be the appetiser.
Olivia put her sandwiches to the side, and she jumped on top of me pushing me to the ground. She leaned in and kissed me passionately. I returned the kiss, we just lay there for a few minutes continually kissing. I hugged Olivia and pulled her body close to mine.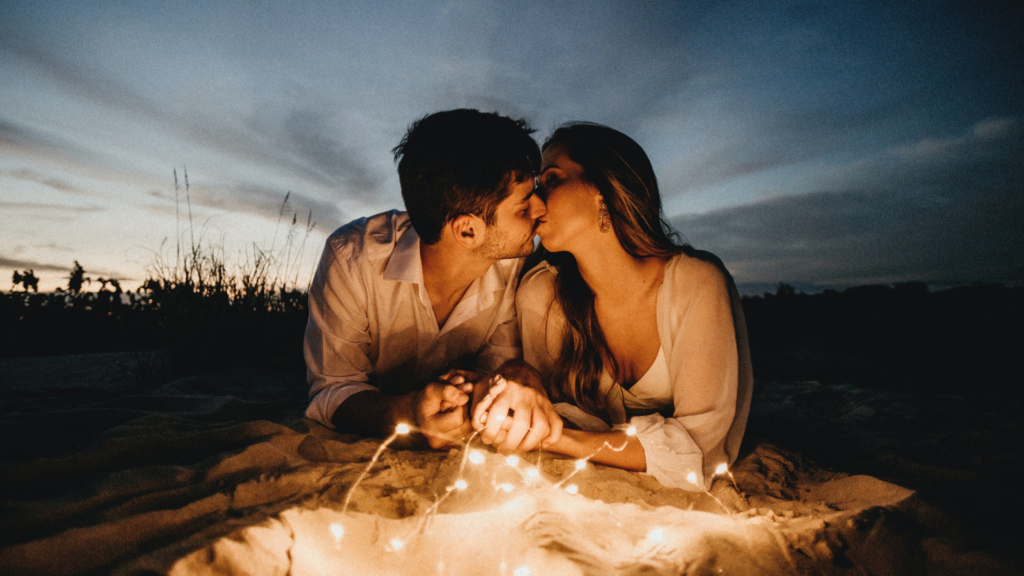 We rolled over so I was on top. The kissing continued of course, and the tension was slowly building. Olivia's hands started to wander all over my body.
Olivia reached down between us & rubbed my cock through my jeans. I ignored her advances & continued the kissing.
We positioned ourselves side by side to continue kissing each other. Our hands were enthusiastically exploring each other's curves & crevices.
Olivia mentioned she wanted to see my pierced cock in person as she had never seen one up close. She reached down and tried to slide her hand inside my jeans. I grabbed her wrist playfully and pulled her hand out. She tried again and I pulled her wrist back out again.
We continued kissing enjoying the taste of each other's lips. Olivia reached down again & rubbed my hardening cock through my jeans again. I moaned at her touch. I wanted her to touch it but we agreed to a kissing only date.
I rubbed her cunt through her dress and panties. I could feel her warmth and knew she was wet, but I resisted lifting her dress for a closer inspection. I really wanted to touch her cunt and taste her juices, just as she wanted to taste & feel my cock in her mouth.
The kissing subsided for a bit to catch our breath. We were both hot and horny for each other, but knew we agreed to limits. We could have changed those limits, but what would we do next time?
We finished up the last of the champagne and sandwiches sitting on the blanket just talking.
Soon the time allocated came to the close, we still wanted each other, & knew this relationship could go further than we initially thought back during those first few messages on Reddit.
We packed up & wandered back to the cars, hand in hand, giddy with excitement over what just happened and what may happen in the future.