Today's post is brought to you from Brigit Delaney's Dirty Questions.
Masturbation is an interesting topic to write about. I haven't written about it here on the blog, and I d on' recall writing about it on previous blogs I have attempted to maintain.
Masturbation isn't something that I do on a regular basis. I think I would be lucky if I masturbated once per week. Occasionally the mood might call for two or three times throughout the week, but they are very rare occasions, just like the blue moons (maybe the blue moon is my blue balls needing some additional release).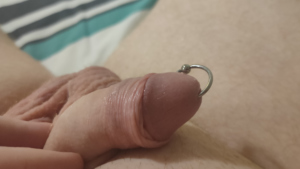 Masturbation is not high on my list of bodily needs. Even sex does not come in high on my needs. I have a low testosterone and libido, and certainly does not match up to the average male.
Most of the time, when I am in the mood for a quick masturbation session, I usually rub out an orgasm in the shower when I get a few minutes of solitude. My quick session involves a finger to the anus to stimulate the erection, before releasing a much reduced cum load due to my vasectomy. That generally satisfies me most weeks if the need arises.
On rare occasions when I feel the need for something more, then I go down the path of some pain mixed with pleasure. My current go to for pain stimulation is my recent purchase of suction cups. These suction cups make quick work of getting the blood flowing in just the right places. Once the pain has been experienced, and the nipples pulled tight, a quick rub and tug gets the job done.
On the exceptionally rare cases, I do like to take my time with the suction cups, making sure I spend some quality time at full attention. These are the times when masturbation is about teasing my cock, keeping me on the edge of an orgasm (or two), before making a warm sticky mess of cum.