After Christina had devoured John's cum from his body, she knew that it would be a little while until his cock was ready for her to ride. So as they were curled up on the bed, she plotted the next part of their weekend.
As all the events so far this morning had Christina leading the way, she wondered how far she could push John.
Christina fell asleep after the morning events. John hugs her for a few minutes as she drifts off to sleep. He got up, and does a few things around the house while Christina has a late morning nap.
About an hour later or so, Christina stirs. She can hear John doing some yard work outside. While John iss outside, she gets up and grabs a few toys & accessories from around the bedroom and lays them out on the bed.
Christina sets out her leather flogger, a glass butt plug, some faux leather cuffs and a small bottle of lube.
Christina lays down on the bed again. She hears John finishing up with the yard work, and starts touching herself again. Her mind wanders as she lets her fingers explore her body.
She imagines taking charge of her husband, owning him temporarily, making him her personal sex toy for the rest of the day. She tells herself that she will make it happen today.
Christina hears John come back inside, she continues touching herself as his footsteps get closer to their bedroom. John opens the bedroom door to see Christina touching her glistening pussy.
He quickly undresses and rushes over to the bed. Christina closes her legs, and wags her finger at John telling him 'no'. John stands up with a perplexing look on his face.
Christina points her finger at the ensuite. John knows he needs to shower before the fun can continue. He has a shower to remove the grim & grit clinging to his sweaty body.
Christina goes back to touching herself. She moans with pleasure loudly so John can hear over the running water. John quickly washes himself as he listens to her moans. He jumps out of the shower and stands in the doorway watching and listening to Christina as she continues touching herself.
Once dry, John walks over to the bed and sees the toys laid out for the first time. He imagines he will get to use these on Christina, but does not know her plans.
Christina motions for him to join her on the bed. He crawls across the bed between her legs as she parts them further inviting John to eat her pussy.
As he gets closer, she pushes his head back away. He tries to lean in closer and Christina pushes his face away from her moist cunt. She pushes his face into the bed and stands over John.
She walks over the bed, leans down and grabs the flogger. She drags the straps along John's back. He turns his head to look back at her. She smiles wryly at him, as her plan is starting to come together.
Christina stands on the floor next to the bed, she grabs John's hair and pulls him to the floor at the foot of the bed. She holds the flogger close to John's arse, the tails resting in his butt crack.
John's cock starts growing as it dangles between his legs. Christina sees this and knows they will both enjoy her plans as John will be a willing participant.
Christina grabs the lube and butt plug. She rests the plug in the small of John's back. The coolness sends a shiver along his spine. Christina drops the flogger to the floor, she opens the lube bottle lid and drips some into John's butt crack.
Christina uses her fingers to spread the lube and warm it up. Her fingertip press against his asshole. John clenches as he has not been touched there in some time. Christina takes her time, adding a few more drops every minute or so.
She presses her finger against John, and the tip slips inside. John moans. He clenches around her finger, but wants more inside him.
John pushes back against Christina's finger, begging for more without saying a word. Christina knows he is ready for her entire finger. She pushes her finger inside him slowly stretching his asshole. She rotates her hand so she can touch his prostate.
John shivers as she touches his P-spot. She strokes it a couple of times, and John groans loudly. She moves her finger in and out a couple of times finger fucking his ass. She feels his asshole loosen around her, she knows he is ready.
She withdraws her finger and grabs the plug. She slathers the plug in lube, and adds some more to John's but crack. She then presses the tip of the plug against John and lets him guide how much he can handle.
He pushes back, then stops, slowly stretching himself to the size of the plug. Lube is everywhere but neither Christina nor John care. John wants that full feeling, and Christina wants a submissive anal slut of her own in John.
After a few minutes, the plug pops inside John and he moans in pleasure as the plug presses against his P-spot. Christina lets the plus find its resting place before pressing against the plug a few times causing the plug to move around inside John.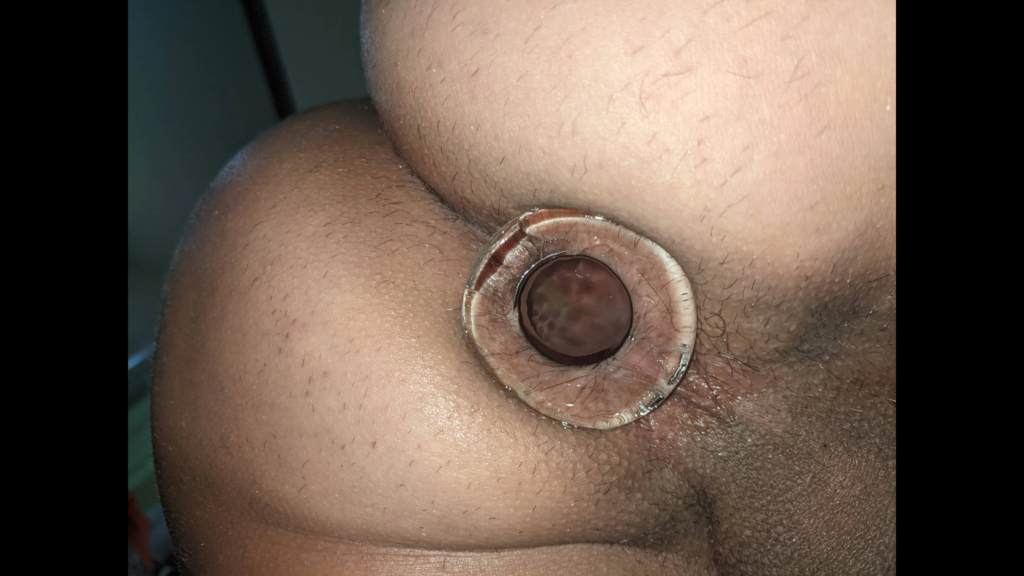 Christina has succeeded with part one of her afternoon plan. Christina grabs their play towel & wipes the excess lube off her hands and John's butt crack.
She stands up and grabs the flogger again. She drags the flogger tails all over John's bottom and back. Shivers run along his spine.
Christina is new to the flogger, so she starts slow. One stroke on John's behind, then she drags the trails along his back. She strikes John again, over and over, each one slightly stronger than the last. John's moans grow in intensity.
The flogging goes on for a good 10 minutes or so, with a couple of seconds between each stroke. Christina works up and down John's thighs, over his arse and along his back. John moans loudly with each stroke.
Christina drops the flogger, and climbs onto the bed. She lays back, and props herself up on some pillows. She spreads her legs, and touches her wet cunt. She wants John to give her an orgasm using his mouth alone. She motions for John to join her on the bed, the but plug still in place.
She invites John to lick her wet pussy. She is already on edge and ready to cum hard. She pushes John's face against her cunt. He runs his tongue along her pussy lips. John wants to give Christina exactly what she wants. He eagerly laps at her pussy and her legs tremble every time his tongue brushes her clit.
Christina pinches her nipples as John continues feasting on her cunt. She moans in pleasure with each pinch of her nipples. John places his hands on her thighs pushing them as wide as he can. He wants to get his tongue as deep as possible and gets her juices all over his face.
John senses Christina is on edge, he continues working his tongue and lips all over Christina's vulva. Her leg trembling increases in intensity, her breathing gets shallower and faster, her orgasm builds deep inside her. John eagerly continues lapping at her cunt.
An orgasm erupts from deep inside Christina. She squirts all over John's face. He savours the moment and enjoys the taste of Christina's cum. Christina pants as her orgasm subsides. She has not had an orgasm from oral alone for some time. She looks forward to being serviced some more maybe later this evening.
John gets exactly what he wants, a face full of Christina's cum. Christina gets her submissive anal slut, her husband, plugged and eager to please.